Sakura rape fantasy with sound ninja Yonin

The manga section without a Sakura rape, that can't be believable. Here it's time to discover another wonderful work from Crimson. This guy make really great doujinshi, as tyou can read this good one with the sexy nami. I'll share more of his work in future.
This time it's Sakura Haruno to fall in sex deprevation of his pencil. The story take place during the second part of the manga, after Sasuke is taken away by the Sound Four of Orochimaru. Sakura try to capture one of them to interogate them… But she overestimate her power, and fall to the forced sex jutsu that leak her chakra.
The fall of the kunoichi
She fell in the hands of Kidōmaru, Sakon and Ukon, who are more than happy to abuse of the sexy kunoichi's body. Even after her training with Tsunade, she fall in their trap. And this time no Hero like Naruto is here to help her…
Catured in the chakra web, she can't move while Sakon molest her breast. In this position she can't realease her full strength and loose her concentration. Their finger masturbe her vagina and asshole while she try to scream.
But all to sensorial jutsu give her incredible forced pleasure, licking her pussy while pinching her tits. When she fall for her body waisting, it's time for Ukon to come in the game and fuck her together with his brother in double penetration.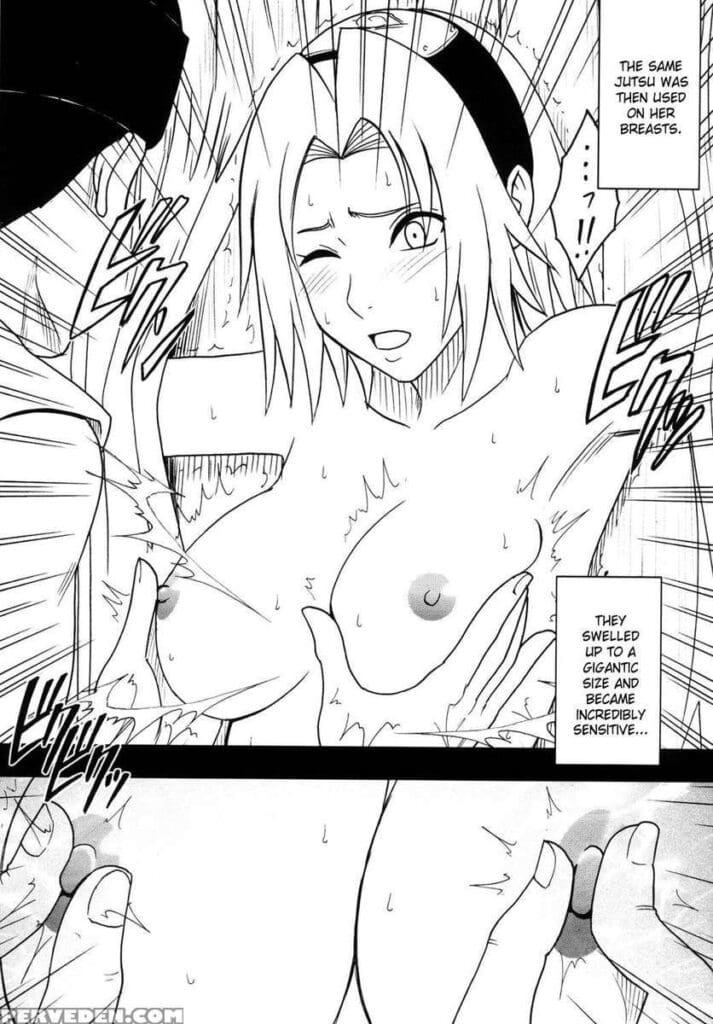 Manga rape review : Really good one – 18/20
What I like with Crimson work is the imagination, all of them take all details from manga to turn it sexualy. The DP with Sakon and Ukon is really a great idea.
And the drawing is also of great quality, the way he draw boobs is almost perfect in all his work.